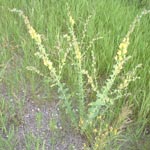 (Linaria dalmatica)
Family: Scrophulariaceae (Figwort).
Other Common Names: Broad-leaved Toadflax, Wild Snapdragon.
Origin: Europe.
Growth Form/Reproduction: Perennial. Seeds and vegetatively from horizontal roots.
Identification: Flowers are bright yellow and resemble snapdragons. Leaves are broad and clasp the stem. Plants grow from 60 cm to 1.2 m tall.
Habitat: Adapted to a wide range of environmental conditions, and is tolerant of low temperatures and coarse textured soils. Disturbed sites, cultivated fields, grassland and transitional forest-grassland.
Resources
2011 Rural Municipality Distribution Map
2010 Rural Municipality Distribution Map
Dalmatian Toadflax 2009 MWSA Survey Map
Best Management Practices 2010 PDF
Dalmatian Toadflax ISCM Fact Sheet
Alberta Invasive Plant Council Fact Sheet
Text provided courtesy of http://www.kootenayweeds.com
Back to Terrestrial Invasive Species List