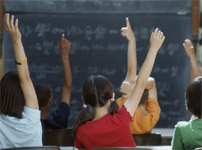 ---
Please use the valuable resource: Manitoba Earth Challenge (free download) developed by Girl Guides of Canada- Manitoba Council in partnership with ISCM, Assiniboine Watershed Network and City of Winnipeg Naturaliast Services Branch.
This challenge was designed to educate school-age girls and inspire conservation of the natural areas that lie within their city.  There is a section on "Unwanted Invaders - A Quick Invasive Species Training".   Girl Guides also has invasive species 'pulling' kits (gloves, bags and pocket guides) to sign out at the provincial office.
---
Please use these valuable resources produced by the Leafy Spurge Stakeholders Group and provided by "Agriculture in the Classroom"
Leafy Spurge

Grade 4. Designed to be used with Science unit Habitats and Communities. This resource includes all of the worksheets and answer keys needed.  There is also a complimentary tag game for students to play.

 

Free Download
Leafy Spurge
Grades 7. Assign your students to be detectives on case file Sci SLO 7-1-05-06, Leafy Spurge Alien Invasion.It is their job to compile a file for use in the capture and arrest of Leafy Spurge.  They will use the checklist provided as a guide to help them complete the file.
Teacher Resource
Student Worksheet
Answer Key
Free Download

Leafy Spurge


Grades 10. Assign your students to research Leafy Spurge like a scientist.  There are many good sources for the students to source including a specific website.
Teacher Resource
Student Worksheet
Answer Key
Free Download