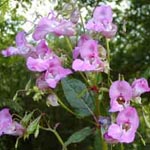 Impatiens glandulifera
AKA Policeman's Helmet, Poor Man's Orchid, Indian balsam.
Himalayan Balsam is native to India and the Himalayas, and was introduced as a garden ornamental in the 19th Century. The flower resembles a British policeman's hat, thus one of the common names.
This fast-growing annual can reach an impressive size over the growing season, rapidly out-competing other plants. The leaves occur in whorls around the stems and the plant prefers moist areas. The seed capsules are very brittle and explode upon contact.
Since this plant has a shallow root system it can be controlled by hand-pulling.
Resources
Himalayan Balsam ISCM Fact Sheet
2011 Rural Municipality Distribution Map
2010 Rural Municipality Distribution Map
Himalayan Balsam MWSA Survey Map
Alberta Plant Council Fact Sheet
This information provided courtesty of the Invasive Species Council of AB
Back to Aquatic Invasive Species List
Back to Terrestrial Invasive Species List