2011 River, Lake & Wetland Invaders is now available from The Invasive Species Council of Manitoba.
Aussi disponible en français

Information on 5 New aquatic invaders of threat to waterway & riverbank areas in Manitoba has been added, including Nodding thistle, Common tansy, Invasive Phragmites, Spiny waterflea and Round goby.  The cover has also been changed for this 2011 edition.
Download a PDF copy or email info@invasivespeciesmanitoba.com to request a free paper copy.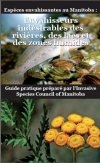 Télécharger une copie PDF ou envoyeé nous un email info@invasivespeciesmanitoba.com  pour avoir une copie gratuite.